Hypothermic and hallucinating, locator beacon became missing tramper's life saver
Katie Townshend, Sep 20 2021
It was midday when John Tame set out for Boulder Lake Hut – and, as he's quick to point out, that was his mistake.
It was a Friday in July, and the Golden Bay man was setting off on a tramp in Kahurangi National Park.
The overnight tramp turned into a two night ordeal, ending when he was winched – hypothermic and injured – into the Nelson Marlborough Rescue Helicopter, after being found thanks to a personal locator beacon.
The route to Boulder Lake takes between 8 and 10 hours, traversing farmland, a steady climb to up, along Brown Cow Ridge, and then down into the valley by the lake.
But Tame had been late setting out, and while the climb started well, it took longer than expected.
"It got harder to find the route and I kept getting off track, which took time, energy and water. When I got to what I thought was the main ridge there was snow and ice under-foot, but I couldn't see any orange markers," Tame told Stuff.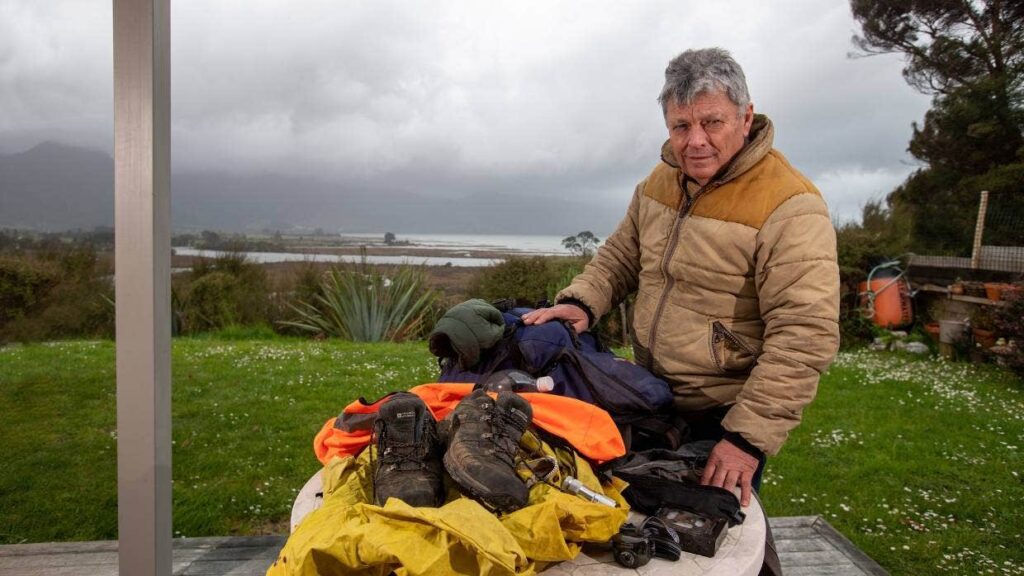 He thought it was better to keep moving forward to the hut, so kept going – despite numerous falls and losing his map.
"Then, I was trying to cross a bluff in the dark and I just fell into blackness."
He landed on his feet, and could move his toes, so was unsure how badly he was injured.
The next day he could see a convoy from the army in the distance so got up and tried to make his way to the river.
That convoy – along with other trampers, a dog walker, a farmer and a mother and her daughters – were actually hallucinations bought on by hypothermia.
He made it to the river, and crawled into an "igloo" across the river from a visitor centre and managed to sleep.
The next morning, fuelled by sleep and a cup of soup he realised there was no igloo, no visitor centre – and he needed help. So he laid out high vis clothing on the rocks, and set off the locator beacon.
"I was not going to get out on my own."
The search effort had already begun, after his wife, Linda Tame, and son, TVNZ presenter Jack Tame, became worried they hadn't heard from him.
By that stage, his family were fearing the worse, Jack Tame told Sunday.
"He's been missing for two days, in the freezing cold, in the middle of winter. I thought it's more likely he's dead than alive."
But, the beacon and the rescue helicopter, saved his life, John Tame said.
"I was so relieved when I heard the helicopter, and they were able to get to me. I am just grateful that I got out and that they were able to find and save me."
He was amazed the helicopter could reach him in the spot he was in, and said the winch rope looked like a "piece of cotton" from his perspective as he was battered by the turbulence going up into the helicopter.
The $20 he spent to hire the beacon was one of the best things he ever did, he said.
"Shit happens, it happens to everybody, it happens to me."
Once rescued, Tame spent three days in hospital, suffering from hypothermia, dehydration, kidney and liver damage and a stress fracture to his spine.
At the time, Nelson Senior Constable Dave Colville said it was fortunate Tame was "experienced, well-equipped, fit and had the sense to take a beacon".
"If he hadn't taken a beacon he could still be out there."
Now, Tame's helping to front the NBS Rescue Helicopter Appeal month, kicking off in October.
"I can personally endorse that product," he said.
Nelson Marlborough Rescue Helicopter General Manager Paula Muddle said the Covid-19 had meant another financially difficult year, and it was hoped the appeal could help make up a $500,000 shortfall.
"The Nelson Marlborough Rescue Helicopter is a constant regardless of lockdowns, continuing to save people who find themselves in life-threatening situations around the region."
NBS chief executive Tony Cadigan said the helicopter trust played a vital role in the community.
"It is not a job for the faint-hearted, they are amazing."