Longline crew rescued after high seas vessel fire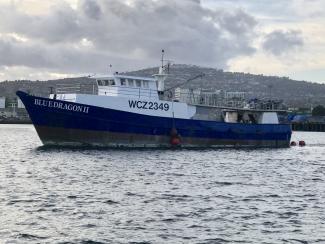 Emergency locating beacons alerted the Coast Guard to a fishing boat on fire 350 miles off the central California coast, and seven crew members were rescued by a cargo ship that responded to the Coast Guard's call for assistance.
Watchstanders at the Coast Guard 11th District command center in Alameida, Calif., received multiple alerts from emergency position indicating radio beacons and personal location beacons from the vessel Blue Dragon around 12:20 a.m. Nov. 10, according to a Coast Guard account of the rescue.
The EPIRB and PLB signals indicated a position about 350 miles west of Monterey. The watchstanders coordinated the launch of a C-27 Spartan medium-range aircraft from the Coast Guard Sacramento Air Station at 1:30 a.m.
Using the Automated Mutual-Assistance Vessel Rescue System (AMVER), the command center issued a request for assistance from other vessels in the area. The crew of the 623-foot Portugal-flagged bulk carrier Nord Rubicon, en route from Vietnam and located 80 miles northwest of the beacons' location, responded and told watchstanders they could divert and assist the fishing crew.
The C-27 aircrew arrived over the scene at 3:21 a.m. and reported the Blue Dragon was on fire and the crew was in a life raft.