New details with video: Three rescued after vessel sinks off Nantucket
August 5, 2023
NANTUCKET – Air Station Cape Cod reports that earlier Saturday, their MH-60 crew responded to an EPIRB off the shore of Nantucket, they hoisted 3 people out of the water clinging to a crab pot after their vessel had sunk.
Update: Air Station Cape Cod and Station Brant Point responded to the sinking of the fishing vessel – Miss Kara after an EPIRB alert. MH-60 crew members rescued three fishermen 5 miles off the coast of Nantucket from the water on Saturday August 5.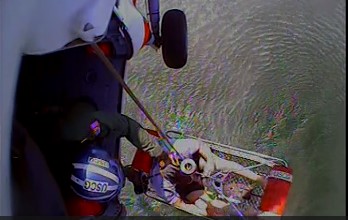 New details from U.S. Coast Guard: The Coast Guard rescued three fishermen five miles east of Nantucket, Saturday.
At 12:48 PM First Coast Guard District command center watchstanders received an alert from an emergency position indicating radio beacon registered to the 55-foot commercial fishing vessel Miss Kara.
A Coast Guard Air Station Cape Cod, Massachusetts, MH-60 Jayhawk helicopter crew, and a Coast Guard Station Brandt Point, in Nantucket, Massachusetts, 47-foot Motor Lifeboat crew were launched to search.
At 2:02 PM, the Jayhawk crew located all three fishermen clinging to a buoy. The Jayhawk's crew safely hoisted all three fishermen and transported them to Hyannis Airport, where they were treated by EMS.
"Their properly registered EPIRB was invaluable for the rescue of these three fishermen," said Lt. Cmdr. Kristi Butler, search and rescue coordinator for the First Coast Guard District. "This positive outcome demonstrates the importance of maintaining vital lifesaving equipment onboard your vessel."
The fishermen were not wearing life jackets