Test all Cospas-Sarsat ELTs, EPIRBs, and PLBs
New and Improved! The BT200 Beacon Tester follows in the footsteps of the BT100 – the most popular Beacon Tester in the world! The BT200 Beacon Tester has improved measurement accuracies, is inherently rugged, and is intuitive to use. Now completely integrated, this tester packs a whole lot of measurement capability into a very small package.
Building on the features of the industry standard BT100, the BT200 Beacon Tester offers improved measurement capabilities and in a fully integrated and ruggedized device. The BT200 Beacon Tester meets and exceeds the measurement requirements for EPIRBs (IMO MSC/Circ.1039 and 1040) and for ELTs in the USA (FAA Part 91.207), in Canada (CAR 571 Appendix G), and Europe (CAA/EuroCAE requirements). These Beacon Testers in fact form a cost effective solution by eliminating the need for other costly test equipment. Don't risk incomplete testing of your beacons – use the BT200 Beacon Tester to test them thoroughly. In compliance with your Quality Assurance requirements, detailed calibration data is included with each Certificate of Calibration.
The BT200 Beacon Tester provides thorough beacon measurement capabilities at an affordable price and includes:
Receiver is fully integrated into the device
Device is IP68 rated – Rugged and waterproof!
Capable of complete 406, 121.5, 243 MHz channel measurements
Receives all Cospas-Sarsat past, current, and future frequency channels
Capable of decoding all Cospas-Sarsat protocols
Includes an internal temperature sensor for measurement accuracy
Direct connection power measurement accuracy to ± 0.25dB on 406 MHz!
External coax allows direct connection between Beacon and tester (no external attenuator required)
Internal antenna measures beacon transmission over the air.
Very intuitive and easy to use software – familiar Android based operating system
User can add text, audio, photos, and videos to each measurement
Automatically creates PDF Test Report along with a delimited file
Easily transfer measurements to PC for data storage or data analysis
Also can measure 121 or 121/243-only beacons (C91a ELTs)
Graphic display of 406 MHz:
Phase modulation
In-band frequency spectrum
Power during the burst
Exceeds all IMO, FAA, IC, and EuroCAE EPIRB and ELT inspection requirements
Identifies manufacturer and model number from Cospas-Sarsat approval list
Free software and firmware updates

AIS-EPIRB and AIS Transceiver measurement capabilities – coming soon.
Included with your Beacon Tester purchase
Fully integrated, rugged BT200 Beacon Tester
RF Input Interface Cable
OTG/USB cable
USB cable
AC mains charger
Operator's Manual
Watertight Storage Box
Graphs and Test Report Screenshots
130-024
– Custom RF Cable MCX-m R/A to BNC-f – 5″
RF cable used to connect the BT200 directly to a beacon or coax cable.
130-025
– Cable Micro 5-pin Male to USB A Male
BT200 data and charging cable.
130-030
– Custom RF Cable TPS-m to BNC-m – 3′
RF Cable used to connect directly to a beacon with a TPS output port.
130-032
– Custom RF Cable BNC-m to TNC-m – 3′
RF Cable used to connect directly to a beacon with a TNC output port.
130-033
– Custom Length RF Cable BNC-m to BNC-m
RF Extension Cable – Choose your desired cable length. WST provides Cable Loss input factors for any cable length.
130-034
– Custom RF Cable MCX-m R/A to MMCX-f – 8″
RF Cable used to connect directly to a beacon or coax cable.
130-036
– Custom RF Cable BNC-m to SMA-m – 3′
RF Cable used to connect directly to a beacon or coax cable.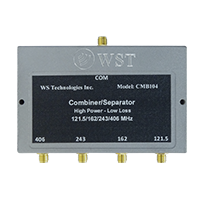 850-CMB104
– 4-Channel Signal Combiner
121/243/406/AIS signal combiner.
850-PPA100
– Wi-Fi Pilot Plug Adapter
W-Fi Pilot Plug Adapter for AIS Transceivers.
850-103–
BT200 Custom Waterproof Hard Case
Waterproof (IP67 rated), dustproof, and shockproof hard case with custom foam insert for safely transporting and storing your BT200 Beacon Tester and accessories.
FREQUENTLY ASKED QUESTIONS
Why is my battery depleting so quickly?
In order to save battery power, turn off WiFi and keep the screen brightness to a minimum whenever possible. Do not turn off Bluetooth as this is used internally to the BT200.
My Beacon Tester won't receive either 406 MHz or 121.5 MHz.
Ensure that the proper Input mode is selected. If you are receiving a beacon self test transmission through its antenna, then select Internal Antenna. If you are connected directly to the beacon then select Direct Connection.
The Bluetooth on my device is not functioning.
Some functions on the device, such as Bluetooth, are functions dedicated to the operation of the Beacon Tester. The NFC is also not functional.
My GPS coordinates are being displayed in degrees/decimal minutes (dd° mm.mm'). I prefer degrees/minutes/seconds (dd° mm' ss"). How do I change this?
Tap Settings > General > Location Coordinate Format. Select the desired format.
When I launch the Beacon Tester app, after it is Initialized the spinning timer goes for a long time.
The length of time the timer continues depends on the number of measurement files in the Measurements folder. If you reduce the number of files the app will launch quicker.
How do I update the Beacon Tester software?
Use the Google Play Store to install the Beacon Tester app, or go to the WS Technologies Inc. website at wst.ca/BT200software and follow the instructions on updating the application software.
When I activate the beacon in self test mode, the measurements produce questionable results. Is there a problem with the beacon?
In order to meet all of the Cospas-Sarsat requirements, a beacon is allowed a 15 minute warm-up period. When testing a beacon in self test, there is no warm-up period, hence some measurements may be somewhat skewed.
Also, in self-test, the 121.5 homing transmission may be different depending on the particular beacon. Some beacons transmit a short modulated signal, some beacons transmit a shorter unmodulated signal and some beacons transmit no signal. The Beacon Tester may indicate "unable to measure details" or "unmodulated carrier" depending on the beacon characteristics.
I am testing an ELT with separate 121.5 and 406 output connectors. What do I do to get the results printed on one Test Report?
Connect to the 121.5 transmitter first, then start the test. Once the Beacon Tester gives the indication that the 121.5 signal has been received, switch the cable to the 406 transmitter without stopping the test. Once the 406 burst is received on the Beacon Tester, the measurement will be complete.
Is the characteristic swept tone audio that I hear when the Beacon Tester receives a 121.5 MHz signal the actual demodulated audio from the beacon?
No, the swept tone audio is just an audio file played when the tester has received a 121 MHz signal.
The beacon I want to measure has offset training frequencies on 121.5 and 243 MHz. How do I setup the Beacon Tester to receive these training frequencies?
Tap Settings > General > VHF Training Frequencies. Activate one or both of the channels, and select the desired training frequencies.