Test all Cospas-Sarsat ELTs, EPIRBs, PLBs, and AIS Transceivers
The STB100 Beacon Test Bench is becoming known as The Standard in beacon testing equipment worldwide. No other test equipment provides this level of detailed, accurate, and reliable measurements for both Cospas-Sarsat approved emergency beacons and AIS Transceivers (new).
The STB100 Beacon Test Bench is the perfect tester for shore-based maintenance facilities, avionics test facilities, beacon manufacturers, beacon developers, and IMO radio surveyors.
The STB100 measures all 406 MHz, 121.5 MHz, and 243 MHz emergency beacons, including AIS EPIRBs (new), 406 MHz frequency stability, and AIS Transceivers (new).
The STB100 also has very accurate DC current and voltage measuring allowing for characterization of power supplied to a beacon, as well as measuring leakage current down to 200nA.
The user friendly STB100 software is included free with the purchase of your STB100 unit and can be downloaded directly from our website. Alternately, advanced users can use the optional API command set to customize their own User Interface.
measures all 406, 121.5, 243, and AIS-EPIRB parameters
measures AIS Transceivers (Class A & B)
receives all Cospas-Sarsat frequency channels and decodes all protocols
measures and computes 406 MHz frequency stability
uses direct 50Ω RF input at full power – no attenuator needed
has optional Antenna input
monitors the DC supply to a beacon over a wide range: 1 to 30V, 5mA to 8A
measures Vin to Vout low dropout voltage of 50mV/A
measures beacon leakage current
has overload protection
has internal GPS engine for measuring delta distance
streams measurement data into delimited text files – for easy analysis
creates custom Beacon Test Report PDF
creates custom IMO Test Report PDF
connects up to two external temperature probes
customizable user interface with API command set
Cospas Sarsat Second Generation Beacon ready (coming soon)
Included with your Test Bench purchase
STB100 Beacon Test Bench
AC Power cord
USB to PC cable
Active GPS antenna
RF input antenna
Operator's Manual
Certificate of Conformance
Certificate of Calibration
free software and firmware updates online
outstanding customer support
Software Revision 3.30 Notes:
· Improved Limit Tester functions
· 121/243 Training Frequency updates
Software Revision 3.21 Notes:
· 121.5 MHz antenna performance modifications
Software Revision 3.20 Notes:
· Improved IMO Auto Test
· Modulation Index measurement improvements
· Minor bug fixes
Software Revision 3.10 Notes:
· Added capability to test AIS Transceivers (Class A and Class B)
· Added capability to test AIS-EPIRBs
· Introduced the Oscillograph
· Added ELT (DT) Protocol decoding
· Added Protocol as a Limit Test parameter
· Added custom Test Report logo
· Added Get GPS location function
· Implemented Improvements to determining long vs short bursts
· Corrected upper/lower limits for Phase Symmetry in Limit Setup
· Added Custom filename numbering
· Implemented Minor bug fixes
Individual Tests Screenshot
Customizable Test Report Screenshots
130-029
– Cable USB B Male to USB A Male – 6.5′
USB to PC Cable for the STB100 Beacon Test Bench.
130-030
– Custom RF Cable TPS-m to BNC-m – 3′
RF Cable used to connect directly to a beacon with a TPS output port.
130-032
– Custom RF Cable BNC-m to TNC-m – 3′
RF Cable used to connect directly to a beacon with a TNC output port.
130-033
– Custom Length RF Cable BNC-m to BNC-m
RF Extension Cable – Choose your desired cable length. WST provides Cable Loss input factors for any cable length.
130-035
– Pilot Plug to USB Cable – 3′
Pilot Plug to USB Cable for AIS Transceivers.
130-036
– Custom RF Cable BNC-m to SMA-m – 3′
RF Cable used to connect directly to a beacon or coax cable.
420-101
– Receiver Antenna
Beacon Tester receiver antenna.
100-GAA-SMA-M
– Active GPS Antenna
Magnetic mount active GPS antenna.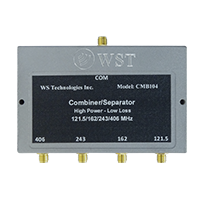 850-CMB104 –
4-Channel Signal Combiner
121/243/406/AIS signal combiner.
850-PRB100 –
Temperature Probes
RTD Stainless Steel temperature probe attachment.
385-UHF-101
– UHF-m to BNC-f Adapter
Adapter for directly connecting an AIS Transceiver via BNC to the STB100.
My STB100 won't receive either 406 MHz or 121.5 MHz.
Ensure that the proper Input mode is selected. If you are receiving a beacon self-test transmission through its antenna, then select Antenna. If you are connected directly to the beacon then select Direct Connection.
When I activate the beacon in self test mode, the measurements produce questionable results. Is there a problem with the beacon?
In order to meet all of the Cospas Sarsat requirements, a beacon is allowed a 15 minute warm-up period. When testing a beacon in self test, there is no warm-up period, hence some measurements may be somewhat skewed.
Also, in self-test, the 121.5 homing transmission may be different depending on the particular beacon. Some beacons transmit a short modulated signal, some beacons transmit a shorter unmodulated signal, and some beacons transmit no signal.
I am testing an ELT with separate 121.5 and 406 output connectors. What do I do to get the results printed on one Test Report?
The WST accessory 850-CMB102 is a low loss, 121.5/406 signal combiner. It can be used to combine the separate outputs from the ELT. Alternatively, you can complete the measurement in two steps: first, connect to the 121.5 transmitter, then start the test. Once the STB100 gives the indication that the 121.5 signal has been received, then switch the cable to the 406 transmitter without stopping the test. Once the 406 burst is received on the STB100, the measurement will be complete.
The beacon I want to measure has offset training frequencies on 121.5 and 243 MHz. How do I setup the Beacon Tester to receive these training frequencies?
Measuring Training Frequencies is easy. Go to the Setup > VHF Training Frequencies and select the training frequencies you are using.