Fisherman rescued off Plymouth after 90 minutes in the sea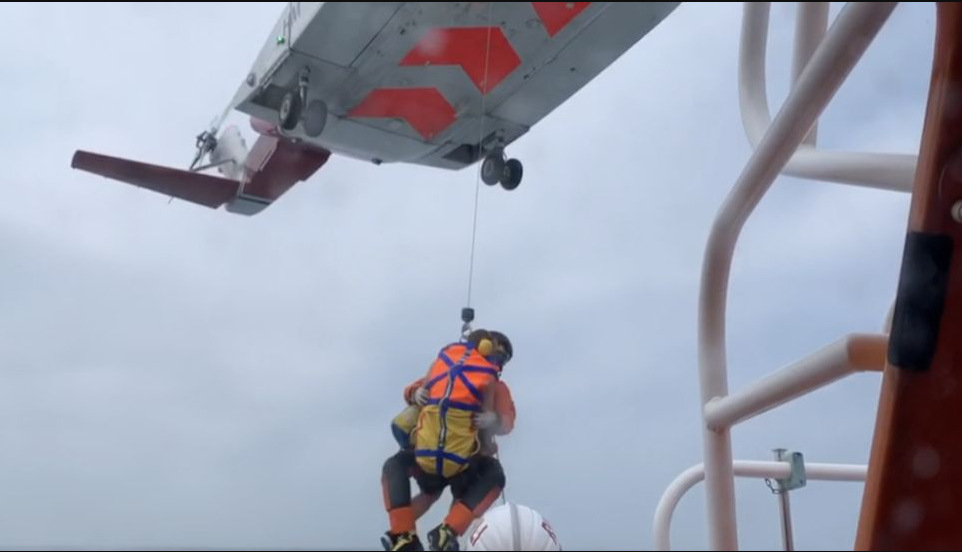 A fisherman has been rescued after falling overboard and spending more than 90 minutes in the water.
The coastguard was alerted at 10:45am BST by the man's personal locator beacon (PLB) on his lifejacket.
The fisherman was found seven nautical miles (13km) off Plymouth wearing shorts and a T-shirt under his lifejacket.
Coastguards said if the man had not been wearing a lifejacket it could have "so easily turned into a tragedy".
A mayday call was also received at 11:25am BST from the fishing vessel, Sidney Rose.
Its captain reported waking from his bunk to find one of his crew was missing as well as a lifejacket.
Matt Rogers, team leader at MRCC Falmouth, said: "He was unlucky to end up in the water at all, but he survived because he did everything right.
"He was prepared and that kept him alive – we have a happy ending to what could so easily have turned into a tragedy.
"It is a perfect example of how important a lifejacket and PLB can be – the sea is a lonely and dangerous place if you aren't prepared."
Plymouth, Salcombe and Hope Cove lifeboats with the Rescue 924 helicopter were part of the search for the man who was airlifted to Derriford Hospital.
He was pulled from the water by Hope Cove lifeboat crews before being transferred to the Plymouth lifeboat where a paramedic was winched on board to assess the man's condition.
Simon Jeffery, coxswain of the Plymouth lifeboat, said: "The casualty was very cold, he had been in the water for some 90 minutes.
"Fortunately he was equipped with a lifejacket and a personal locater beacon. If you do fall over with a lifejacket on and it [personal locater beacon] activates, then your chances of survival greatly increase."